Sorry! Just realized I hadn't posted this year. Here's the second sermon in my series based on "A Christmas Carol." Merry Christmas!
SCRIPTURE – LUke 2:8-20 – In that region there were shepherds living in the fields, keeping watch over their flock by night. 9 Then an angel of the Lord stood before them, and the glory of the Lord shone around them, and they were terrified.10 But the angel said to them, "Do not be afraid; for see—I am bringing you good news of great joy for all the people: 11 to you is born this day in the city of David a Savior, who is the Messiah, the Lord. 12 This will be a sign for you: you will find a child wrapped in bands of cloth and lying in a manger." 13 And suddenly there was with the angel a multitude of the heavenly host, praising God and saying,
14 "Glory to God in the highest heaven,
    and on earth peace among those whom he favors!"
15 When the angels had left them and gone into heaven, the shepherds said to one another, "Let us go now to Bethlehem and see this thing that has taken place, which the Lord has made known to us." 16 So they went with haste and found Mary and Joseph, and the child lying in the manger. 17 When they saw this, they made known what had been told them about this child; 18 and all who heard it were amazed at what the shepherds told them. 19 But Mary treasured all these words and pondered them in her heart. 20 The shepherds returned, glorifying and praising God for all they had heard and seen, as it had been told them.
SERMON
The Ghosts of Christmas Sermon Series
#2 – The Ghost of Christmas Present
Dec. 4, 2016
I was working with some children at my last church during the season of Advent. I sat them in a circle criss-cross-applesauce and said, "I have a wonderful story to tell you about Christmas!" Their little faces got excited and they scooched forward. I started to read the Christmas story as it's told in the gospel of Luke. Most of the kids listened intently to the story about Mary and the angels and the shepherds, but I noticed one little boy's face started to droop and his smile morphed into a scowl. When I finished the story, he was clearly not happy. I said, "Sam, what's wrong? Didn't you like the story?" He said angrily, "Yeah, but that's the same story you told last Christmas!"
Well, Sam is right. We DO tell the same story every year. That can be comforting, but it can also lull us into a sense of complacency. If we feel like we're hearing the same story as last year, it's easy not to listen to it, especially when so many other things are demanding our attention. What are we missing if we're not paying attention to what is right in front of us?
We continue our sermon series today called "The Ghosts of Christmas," based on Charles Dickens' "A Christmas Carol." In that story, Ebenezer Scrooge is confronted by three ghosts that show him his past, present, and future, in hopes of turning him from his miserly ways and helping him catch the true Christmas spirit. During a season in which each of us are susceptible to becoming Scrooge-like, we may need to see some ghosts ourselves to turn our "Bah Humbug!" into a "Merry Christmas."
Last week, we talked about how the Ghost of Christmas Past took Scrooge back to his childhood, his school days, his work apprenticeship. We learned how he lost his sweetheart Belle because he loved his money more than her. And we learned that Scrooge was never able to move past who he WAS to become who he COULD BE. He was stuck looking in the past instead of looking forward with hope.
After the Ghost of Christmas Past leaves, Scrooge is visited by his next spectral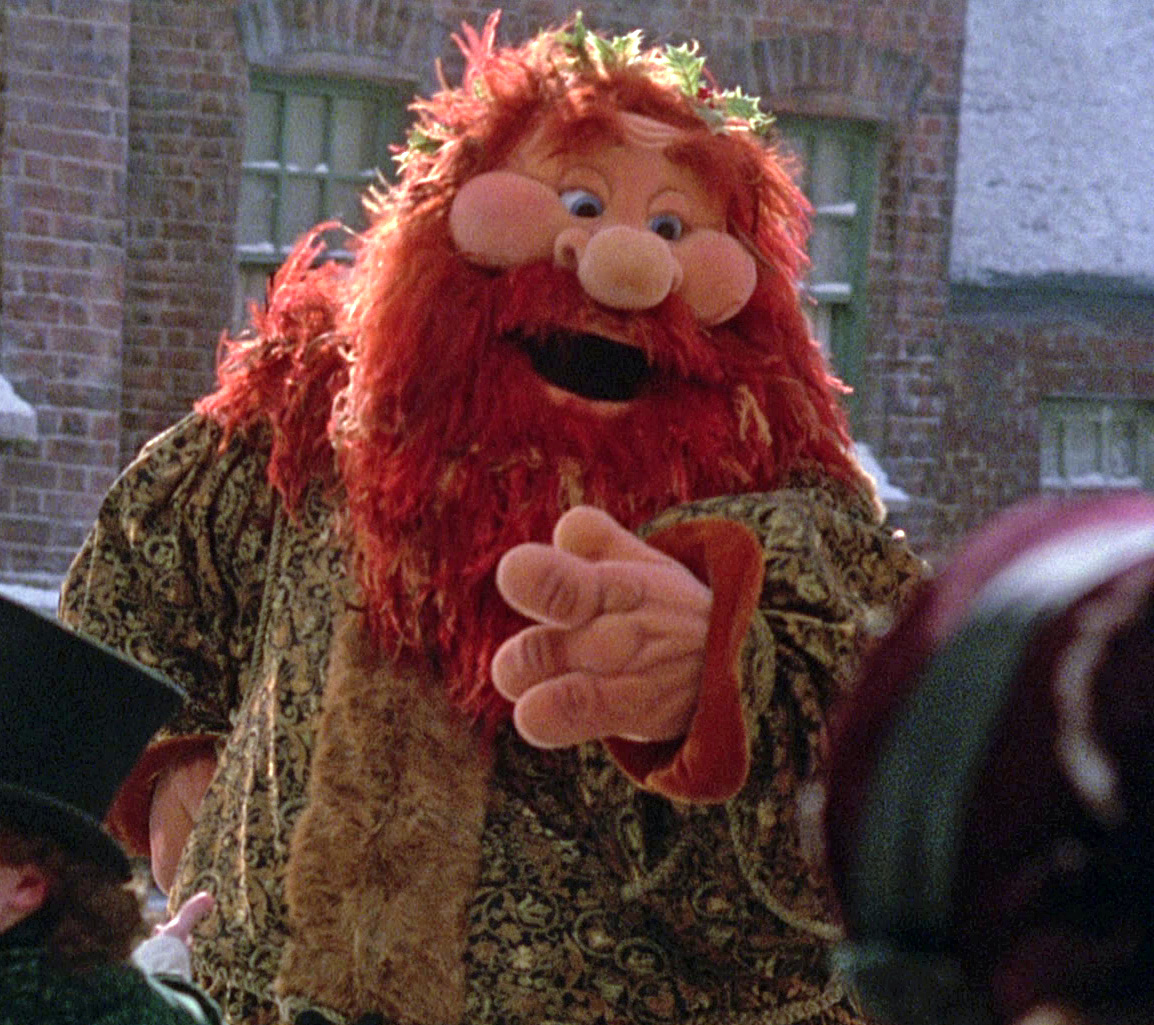 guest, the Ghost of Christmas Present. Contrary to the mysterious appearance of the first Ghost, this one can't be missed. Dickens describes him as a majestic giant in a green fur robe, maybe the original ugly Christmas outfit. The ghost shows Scrooge how Christmas will unfold that year. First, they stop by house of Bob Cratchit, Scrooge's long-suffering employee. Scrooge sees their small home and their meager feast, and witnesses the innocence and joy of Tiny Tim, Cratchit's crippled son. Their next stop is the home of Fred, Scrooge's nephew. Scrooge turned down an invitation to dinner at Fred's house, so Scrooge sees the party he is going to miss. He enjoys it so much he asks the Ghost to stay until the end of the festivities. Scrooge realizes all the things he will miss because his focus was on himself and his money.
One of the most damning lines about Scrooge is in the 1984 movie adaptation, when the Ghost of Christmas Present says to Scrooge, "You've gone through life not noticing a lot." Ouch. Anyone else guilty of that? I think one of the biggest challenges to being faithful today is not the persistence of evil or the challenge of secularism. It's the constant presence of distraction. We are a distracted culture, our attention dissected 100 different ways, unable to prioritize what's important because we're told everything is important, which means nothing is important. So the coming of the Christ child is just one event in a holiday buffet of events this month, and we'll do our best to give it our full attention, but we're just so busy and there's just so much to do and I just got a text message and did I remember to order that thing I was gonna order? Distracted.
I'm sure glad the shepherds didn't feel that way. Luke tells us they were living in the fields, so there probably weren't a lot of shopping malls or Black Friday sales clamoring for their attention. They worked with sheep day and night, so they probably didn't get invited to a lot of holiday parties or Secret Santa gift exchanges. They were just…living in a field. Something about that sounds pretty peaceful, doesn't it?
Since the shepherds' only focus was tending the sheep, they were primed to hear the good news the angel brought them. "Do not be afraid; for see I am bringing you good news of great joy for all the people: to you is born this day in the city of David a Savior, who is the Messiah, the Lord." To you is born THIS day. Not tomorrow. Not yesterday. This day. And the shepherds are able to respond immediately to this good news.
I wonder if I would have the ability to respond with that urgency. "Today, Ms. Angel? Hmm. That's really not good for me. I've got a 9 a.m. coffee, some Christmas shopping to do, I need to pick up my kid from school and run by the grocery. I'm free at 3 p.m. Wednesday. Can Jesus wait until then to be born? Do I have to see the Christ child NOW?" The distractions of this season keep us from being present to the miracles all around us every day. Do we go through Advent not noticing a lot?
I read a book recently in which the author compared attentiveness to God with birdwatching. He said that if you are walking through the woods, and your goal is to get from point A to point B, you'll get from point A to point B. Sometimes the Christmas season feels that way. "Just get me to Dec. 26!" But, he said, if you are birdwatching, then when you walk through the woods, they come alive with robins and bluejays and whippoorwills and doves. The same woods that could be simply an obstacle to traverse instead overflow with life, each flap of the wings sounding like the whisper of angels. But it's Christmas season; who has time to birdwatch?
Scrooge didn't. Being present in the moment for him was a waste of time. His focus was either on the past and what didn't get done or on the future and what needed to be done. His head was always in his ledger, his eyes on the bottom line, his employee simply a cog in the gear of Scrooge's money-making machine. And, as the ghost showed him, Scrooge missed the overflow of life around him, the whispers of angels that got drowned out by his own greed.
What gets drowned out for us? What do we miss this season because of distraction? The easy answer is we miss the meaning of Christmas or the joy of being with family, but I think the real answer goes deeper. In the book, before the Ghost of Christmas Present departs, he shows two starved children, named Ignorance and Want, living in his coat. Before Scrooge can learn more, the Ghost departs.
One of the blessings of Christmas is that the giving spirit spurs people to be generous with their time and money, buying Angel Tree gifts and providing food for gift boxes. That's amazing, and I'm so thankful we can offer people less fortunate than ourselves the chance to experience the joy of this season. We are certainly blessed, and it feels good to be a blessing to others, to share what we have with them.
But there's a deeper need here that we often miss because of distractions. When the angel comes to the shepherds and announces Jesus' birth, the angel doesn't send them to a palace or a castle or the halls of power. Instead, angel directs them to a stable, a home for animals, no doubt dirty and smelly and unsanitary. And it is there, in the most unlikely of places, that they find the Christ child, the King of Kings, the Prince of Peace. The shepherds find this gift in the most miserable of places. Where would that be today? And what keeps us from going there? Distraction? Busyness? Fear?
Theologian Frederick Beuchner makes this point with a bit of an edge. He says, "God comes to us in the hungry people we do not have to feed, comes to us in the lonely people we do not have to comfort, comes to us in all the desperate human need of people everywhere that we are always free to turn our backs upon." Scrooge was an expert at turning his back on the need around him. He went through life not noticing a lot. He probably thought that each need he saw represented a risk for him to lose some of his hard-earned money. He saw Bob Cratchit as a charity case. He saw his nephew Fred as an interruption.
But here's the beauty of the Christmas story and the subversive way God works in our lives. We think God calls us to the muck and mire of the stables of today's world because we have the power and influence and resources to bring God's presence to "those poor souls." But what if we are called there, not to bring God's presence, but to FIND God's presence? What if Christ is born this year in a homeless shelter, or a halfway house, or under a bridge? Will we have the courage to go there, to witness the gift of Christ in the faces of those who are completely unlike us in every way? Will we put our power and influences and resources to work for those who are marginalized, those who are threatened, those who are scared of the future? Or will we be too distracted?
I would like to submit to you that what we are most seeking in this world – peace – is the thing we are least likely to find if we keep doing things the same way. When we are distracted, we are not peaceful. God's peace means we possess a calm, an assurance, a focus that only comes from meeting Christ where he is and knowing that he IS here, in the midst of forest fires and terrorism and political upheaval. He is here. Present. With us now. And he is there, in those places we are afraid to go, with those people who are faceless to us. Will we follow the shepherds leading us to the stable? If you are interested in going to those places, let Trish and me know. We'll walk with you. Luke tells us, "When they saw this, they made known what had been told them about the child. The shepherds returned, glorifying and praising God for all they had heard and seen." They went to the stable, found God's presence there in the lowest of places, and then returned to their fields and flocks, glorifying and praising God. So…what will we do?